Connect with our support team
Live Chat Online:


Mon-Fri (9AM - 4PM EST)
Sat & Sun: Voicemails and emails only
Phone Support:


1-844-294-1495
Mon-Fri (9AM - 4PM EST)
Sat & Sun: Voicemails and emails only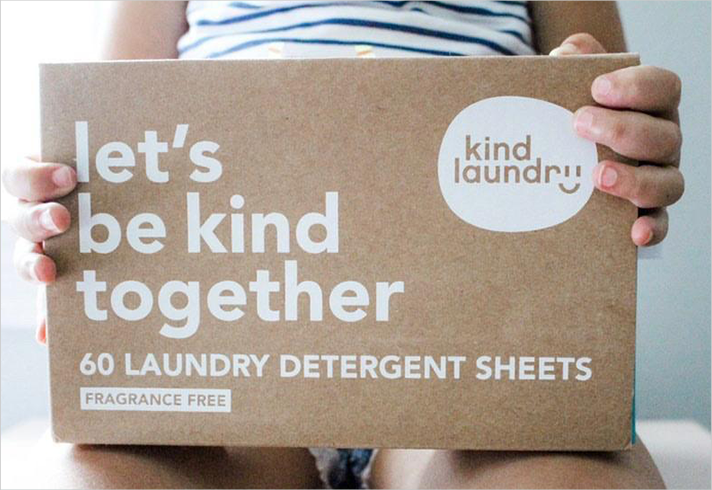 Still not sure?
Frequently Asked Questions
If you want to try our detergent sheets but don't want to commit to a full box yet, we offer a Travel Pack which contains 6 sheets/loads.
Place your clothes into your washing machine and simply add the detergent sheet(s) on top of your clothes.
1 sheet = 1 load
2 sheets = more cleaning power
3 sheets = heavy loads like bedding and towels
One regular load is approximately 5KG of lightly soiled laundry, or the equivalent of one cup of liquid detergent or one pod - without the mess.
Kind Laundry detergent sheets are safe to use on all types of fabrics. However, just like any new product, you may want to do a small test to be sure.

Our eco-friendly detergent sheets work effectively with any temperature, in either cold, or hot water settings.
Yes. Since our washer sheets do not contain concentration of suds, as you'd normally find with most liquid or powder detergents, it will also work effectively in high efficiency washing machines.
Nope. Whether you have a front or top load washing machine, you just simply throw the soap sheet with your clothes and you can begin your wash cycle.
We ship from Toronto, Canada. For US orders, we mostly use USPS and it only take 2 - 7 business days to arrive. In some special cases, we will use private carriers to ensure your order arrives to you as quickly as possible.
Orders from the US: Delivery time is approximately 2 - 7 business days once you receive your shipping email confirmation.
Orders from outside the US: Delivery time is approximately 7 - 14 business days once you receive your shipping email confirmation (depending how strict the Customs in your Country is).
You have until midnight the same day you placed your order to cancel your order and receive a refund after your purchase. If you try to cancel your order after you received a Shipping Confirmation email, we will not be able to issue a refund as the item has already been processed to be shipped out to you.
If your product is damaged or defected, please kindly email us with the subject line "Return: Damage or Defected item with your order #" along with a photograph so we can immediately look into sending you a new one. Once we received your information and it is sufficient, we will reship a new one within 2 business days.
If for any reason you're not satisfied with the product, we will issue a full-refund. Simply email: hello@kindlaundry.com along with your order number.
If you have further inquiries, please contact: hello@kindlaundry.com